Quality Electric Horse Fence & Horse Fencing Supplies
Constructing a high-quality electric horse fence is essential to keeping your horses within your pasture bounds, safe from thieves, predators, and mishaps. Electric fencing for horse control is ideal for grazing and pasture management and offers many advantages when compared to a conventional non-electrified fence. Electric horse fencing is also economical, reducing cost by as much as 50% less than traditional non-electrified fences. An electric horse fence also takes less than half the time to build compared to traditional fence systems, saving you time and money.

In addition to the cost savings, electric fencing for horses act as a psychological barrier and many times are safer than a traditional non-electrified fence. Horses remember the short, sharp, but safe shock and develop respect for the fence. This also has the advantage of increasing the longevity of your fencing system as horses will be less likely to make contact with your fence causing wear and tear.
Keep your horses safe from Dogs, Coyotes, Predators, Thievery, and Accidents!
Getting started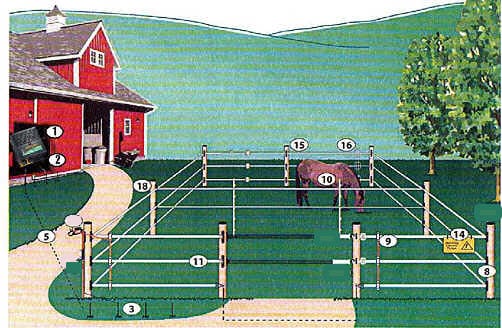 There are two types of electric fencing for horses; permanent and temporary. Either of these options may be powered with four energizer options: 110v plug-in, battery, battery/solar or solar energizers.
A permanent electric horse fence system is suited for long-term horse control and is the most effective way to control horses while maximizing pasture efficiency. It is important to make sure your electric fence system is constructed properly. The effectiveness of your electric horse fence depends on the correct combination of these four primary components for your farm/pasture:
The energizer you select
A ground system
Well insulated fence system
An adequate lead-out which is the connection between the energizer and the fence
Temporary electric horse fencing provides flexibility in pasture management and is ideal for short-term horse control or rotational horse grazing.
Easily transported, constructed and maintained, temporary horse fencing is an effective portable fencing solution, which can be powered by 110v plug-in, battery, solar/battery or a solar energizer.
Portable electric fencing has many benefits:
Fast and easy installation
Portable (hence the name)
Cost-effective
Easy to transport or carry
Example Product List for Electric Horse Fence that is 150′ x 150′ in size…
These are the minimally required products we recommend to build a fully functional electric horse fence. This is a starting list of possible products. Once it is in your shopping cart you can modify it as needed.
Energizer – we recommend the DE 400 for a starter set like this. (NOTE: AC energizers tend to be more reliable than other charger types)
Voltage spike protector – recommended if you are in an area with a lot of Thunder Storms.
Ground rod with a clamp.  ( Note: the larger the energizer the more ground rods required)
3 Hook up wire (this is available in 12 or 14 gauge, with lengths up to 1000 ft)
4 rolls of 1-1/2″ Polytape OR Polyrope (This assumes you are having 4 strands)   DO NOT GO WITH LESS THAN 3 STRANDS
4 Insulators per post (or T Post) or post substitute (trees for example) – 300 quantity needed (or 30 packs of 10 per pack) This product group is set to a minimum of 10 – add more to get to 30 packages if you need that.
Fence tester(five o Lite preferred)
Gate Handle (recommend 1 per strand – if you add this Group it will initially be set to 2. Add more as needed.)
Step in Posts (should only be used for temporary fencing) – sold separately. (NOT TO BE USED FOR PERMANENT FENCING)
Fence posts – 75 if spaced 8 feet apart (60 if 10 feet apart) – (you will need to buy these locally as they cannot be shipped)
Note that this product list is a quick way to get started with your shopping cart. Electric Fence configurations can vary wildly so please do NOT hesitate to call or email us with questions.
Have a Question? Reach Out to Us!
We can help you design or update your Horse Fence.
Shipping & Return Policy
Shipping Policy: We ship 1-2 days on receipt of order.
Return Policy: 14 days, on unopened and unused items. Customer pays to ship. Full refund less shipping.